AN INNOVATION IN SELF-STIMULATION
Venus for Men is a high-tech, hands-free masturbation machine that creates powerful stroking action. Durably built, Venus is portable, compact (6" x 8" x 9.5" – 11 pounds) and quiet. It operates on standard dual-voltage electricity (120v or 240v) so it can be used all over the world.
The Venus machine is an unmarked black box with a convenient handle for carrying. Attachments and the air box are connected with a 4' hose set, and the remote control provides a 4' cable length as well. Set-up takes less than two minutes, and our storage bag can accommodate all your accessories.
Custom Fit Attachments
All Venus attachments are custom-built for you based on the measurements you provide. A clear acrylic housing is fitted with dry natural rubber liner which creates a seal or hugs and massages the penis.  The process used to manufacture the Liner Material eliminates the ingredients suspected to cause allergic reactions in most individuals.   
Receiver: The Primary Venus Attachment
Use the Receiver with the Venus system for hands-free masturbation and create the sensation of a well-lubed partner, no erection required. The Receiver can also be used manually, but an erection is necessary for this application.
Pump: For Recreational Vacuum Enhancement
This attachment can only be used with the Venus system. The Pump can be used to firm a flaccid penis or enlarge an existing erection. With regular use, the Pump provides a variety of penile health benefits.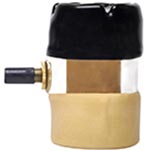 Head Massager: An Erotic Foreplay Device
When used with the Venus machine, the Head Massager provides a squeeze-release action. The open-ended design allows for external stimulation similar to a vibrator or blow job. It may also be used manually. Remove the end cap when using.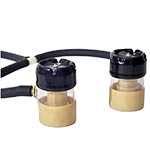 Nipple Massagers: For Nipple or Breast Stimulation
Nipple Massagers may be used on males or females to stimulate nipples and breasts with squeeze-release action. These can also be configured to create a suction action similar to the Pump. Purchase a pair of massagers, and we will provide a "T" connector and two 12" lengths of large hose. The Venus machine is required for use.
Stroking
The Venus machine allows you to adjust your stroke length by adding or removing air from the system. An internal disc setting will be selected for you when you order based on your individual measurements. You control stroking speeds from 8 to 300 strokes per minute via the remote.
This video shows the Receiver stroking at whatever speed you prefer, hands-free.